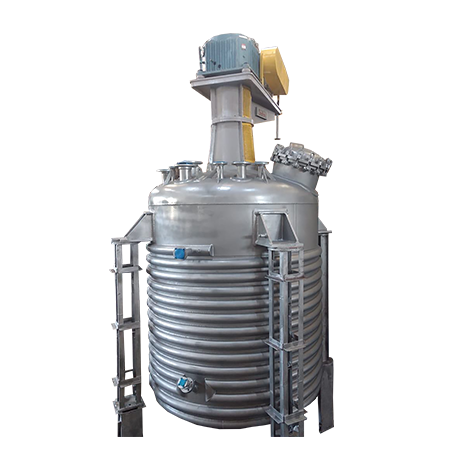 Grease Kettle
Suitable for preparing greases. The Grease Kettle is fabricated out of boiler quality steel and fitted with 2 stage limpet coil for thermic fluid heating.The coils are duly insulated with glass wool and cladded with aluminum sheets.Inlet, outlet and drain fittings are provided on the coils. Temp gauges areprovided on the coils and Kettle for monitoring the temp of the grease atdifferent stages of the manufacturing process. The bottom is dished type and fitted with a flush bottom discharge valveand one drain valve ball type for sample removing, testing and checking. The agitator assembly consists of a duplex designed system where shafts fitted with agitators thoroughly blend the grease as well as move the entire mass. Scrapers are provided at the sides and bottom of the agitator assembly. The drive consists of a 3ph 415V electric motor coupled to a heavy duty gear box by couplings. The output shaft of the gear box is coupled to a stool housing complete with bearings, oil seals and Teflon rope. The entire drive assembly ismounted on a sturdy frame structure. The top opening is provided with a hinged type cover to facilitate charging of grease and to prevent splashing. The Grease Kettle is duly insulated with rockwool and cladded with GI sheets.
Grease Kettle designed for either steam or Thermic fluid heating for different capacities. Grease Kettles are typically fabricated from Carbon Steel (SA 516 Gr70) or Stainless Steel depending on application and budget stipulations.
manufacture and supply grease kettles of various capacities and operating pressures, ranging from vacuum, atmospheric and pressurized. In addition to this, we have manufactured grease kettles for varied applications and with different designs of agitators
Main features :
Wide range of sizes from 2-50 litre working capacity.

Adjustable blade arm rotation

Quick disassembly of the through-ends opposite the drive and blades for

easy cleaning.

Stainless steel construction.

Simple installation - only a single power cable.

Stainless steel with sight-grid cover for product viewing during mixing.

Vacuum design available.
Technical Parameters:
*Specification can be changed as per customers requirements