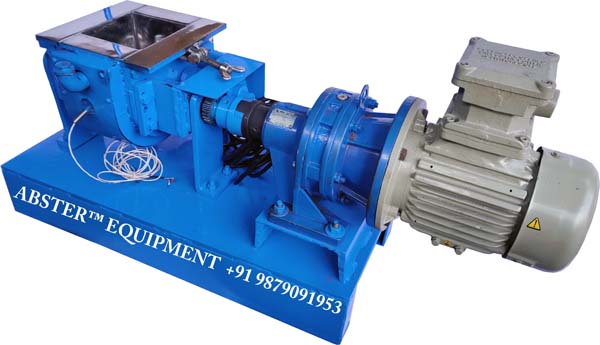 Lab Sigma Mixer
Machine Overview :
The lab model Double Sigma Blade batch systems provide complete, homogeneous mixing, even in small quantities.
The mixing action is a combination of bulk movement, shearing, stretching, folding, dividing, and recombining as the material is pulled and squeezed against blades, saddle, and side walls. Continually new layers of material are compressed and folded over one another and are subjected to shearing forces.
Main features :
Wide range of sizes from 2-50 litre working capacity.

Adjustable blade arm rotation

Quick disassembly of the through-ends opposite the drive and blades for

easy cleaning.

Stainless steel construction.

Simple installation - only a single power cable.

Stainless steel with sight-grid cover for product viewing during mixing.

Vacuum design available.
Technical Parameters:
Model

Total Volume

(L)

Motor Power

(Kw)

Rotor Speed

(R/Min)

Overall Dimension

(Mm)

ABF-2L

2

0.75

32

1100X500X650

ABF-3L

3

1.1

40

1200X600X700

ABF-5L

5

1.5

32

1300X600X750

ABF-10L

10

2.2

46

1400X700X800

ABF-20L

20

3

43

1400X700X850

ABF-25L

25

5.5

32

1450X930X1350

ABF-30L

30

5.5

32

1500X930X1350

ABF-40L

40

7.5

32

1550X9500X1400

ABF-50L

50

7.5

32

1600X1000X1350
Main Technical Parameters

Food industry
Pharmaceutical industry
*Specification can be changed as per customers requirements