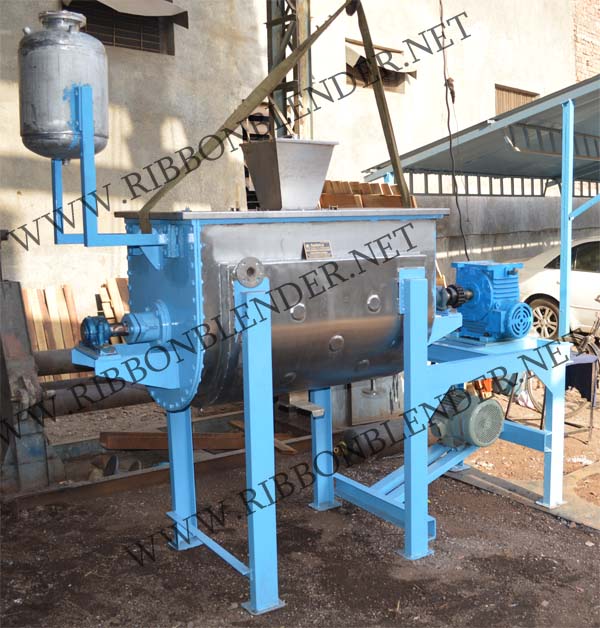 Ribbon Blender – Construction and Operation
The RIBBON BLENDER is a proficient and flexible mixing machine for blending of powders and dry granules consistently. Around two third of mass of the vessel of our product is packed to guarantee complete blending. It provides suitable result for blending of dry granules and powder of the outline and form of the combining strip and item container. Further, our ribbon blender can be utilized for food, cosmetic products, pharmaceutical, chemical and so on.
Material must to be charge against the head part. There are port(s) need to be given on the head layer to charge the item and in addition for aerial vent-hole. One release valve integrated at the base side at core of the vessel. The release length could be modify according to the prerequisite, so that item gets release in the another vessel specifically as well as so material dealing with time for release is zero and the working is dirt free
Features:
Ribbon Blender:
In our product the powder progresses from the core to the stop point of the vessel and corner of the vessel to the core of the vessel. Therefore, the demand of complete blending time is highly low and the RPM needed are additionally low.
The dry item gets adequate persistent development because of the form and motion of ribbon and form of the vessel, which progresses item for best standard of mixing.
In addition, the unit is comprise of one worm minimization equipment, couple drive among ribbon gear to blending stirrer, one electrical engine and belt drive among gear and motor. Vessel possessing four pieces of legs with release valve and head cover. Together end of blending shaft is fixed with PTFE and bush gland housing and protection guards are given on ever single moving components
Unique Characteristics of the Ribbon Blender :
Advantages :
Additional Advantages :
What is possible apart from Mixing / Roasting with specific attachments: :
Applications of Ribbon Blenders
Ribbon blenders can be designed to operate in both batch and continuous modes. Batch type blenders can be built up to capacities of 50 m3. The ribbon blender's versatility for blending solids combined with it ability to perform heating, cooling, coating, and other processes make it a very popular blender. The following are the applications of the Ribbon Blender:
Blending large volumes of dry solids.
Dry powder to wet phase mixing.
Mixing of bulk drugs, chemicals, and cosmetic powders.
Dry Blending of capsule formulations.
Lubrication of dry granules in large quantity.
Heating, cooling, and drying of materials.
Coating solid particles with small amounts of liquids to produce formulations.
Materials commonly blended in the ribbon blender are as follows:
Abrasives
Engineered plastic resins
Pesticides and herbicides
Animal feeds
Epoxy resins
Pet foods
Bakery premixes
Eye shadow
Pharmaceuticals
Bird seeds
Face powders
Pigments Cake mixes
Fertilizers
Plastic powders
Carbon black
Fire retardants
Polyethylene
Chemicals
Gypsum
PVC compounding
Cleaning compounds
Instant breakfast cereals
Spice blends
Dietary supplements
Instant drink blends
Talcum powders
Dried food products
Laundry detergents
*Specification can be changed as per customers requirements